All About Cooking

Fresh Food
Salang Restaurant is a traditional Afghan restaurant owned and operated by husband and wife team Farid and Narges Bahrami who are very passionate about giving the best experience for food lovers. Both combined has over 30 years experience catering the very best of Afghan cuisine for any occasion.
Salang Restaurant started off from scratch in 2010 as there was an overwhelming increase in interest for Afghan food but there wasn't an upbeat modern venue for fine dining available.
Our dishes are all prepared in venue as you order using the most freshest and top of the range ingredients. The chef at Salang Restaurant makes the best effort to produce meals just the way she would prepare it for her own family at home. The menu at Salang Restaurant has a very wide range of delicious dishes to choose from catering for all types of food lovers.
The Restaurant itself is very modern and can seat up to 100 people easily for all types of functions such as birthdays, work parties, get togethers, etc. If the function is bigger to accommodate at the restaurant we offer catering for all your special occasions such as weddings, engagements, anniversaries, etc. and will make sure that the event will be made even more enjoyable by offering the best service and cuisine.
At Salang Restaurant we would like all our customers to leave with the best dining experience that will leaving a lasting affect to keep coming back for years to come.
Succulent tender lamb back strap pieces, spiced & marinated, charcoal cooked.

Thigh flat, charcoal cooked.

Minced lamb, charcoal cooked.

Basmati rice tossed with orange peel, pistachio & almonds.

Golden fried eggplant topped with a touch of light garlic yoghurt served with bread.

Lamb on the bone, charcoal cooked.

Lamb on the bone, tossed with capsicum & onions.

Chicken Chapli Kebab

$30.90

4 pieces burger style) – chicken breast & vegetables,deep fried.

(10 pieces) (V) – pastry filled with afghan chives & coriander served with red kidney beans with garlic sauce.
Golden fried eggplant topped with a touch of light garlic yoghurt served with bread.

Lentils with bread. (may contain seeds)

Basmati rice tossed with grated carrots & sultanas.

Served with 3 types of dips and afghan bread.

Pastry filled with minced lamb & vegetables served with lentils & yoghurt sauce. (10 peices)

Vegetarian Manto (Dumpling)

$29.90

Pastry filled with mixed vegetables served with lentils & yogurt sauce. (10 peices)

Chicken pieces served with bread.

Minced lamb meatballs with mixed vegetables served with bread.

Lamb pieces with potatoes served with bread.

Made fresh in store, fresh afghan bread.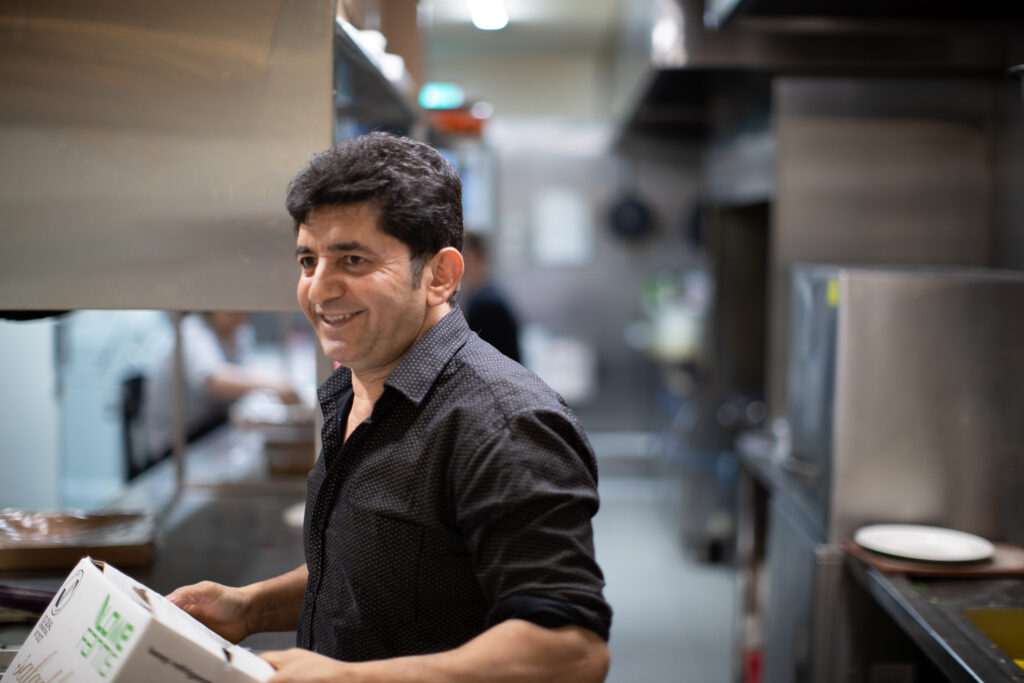 The best ingredients and artisanal afghan technique
We do NOT use coconut, milk, cream, or cooking wine. We specialize in Vegan, Vegetarian and Gluten free dishes.
What they Say

about our delicious food

While Afghan Salang isn't the cheapest place in Dandenong for Afghan good it is one of the best total dinning experiences you can have. Food is outstanding and well as the friendly service. We eat all over Dandenong and this place has the total package. If it's the first time having Afghan food the this is the place to go…
Kate N, "Wonderful experience "

Was looking to have my birthday at a nice big Afghan Restaurant that could seat 20 people comfortably without hassle and that's when I came across Salang Afghan Restaurant. I Read all positive and brilliant reviews of the place and the decor was brilliant and very big and roomy so I decided to make the booking. When I arrived, the…
F00dlover_10, "Amazing!!!!"

My wife and I tried Afgan food yesterday in Dandenong and we definitely picked the right authentic Afgan restaurant in the area. The food is delicious and great value for money. The service is excellent and Fred the owner is extremely hospitable and friendly. He even gave us this impression on the phone when we booked our table during the…
Fallen G, "Amazing Food & Service"

Been here before and we loved it. so took the opportunity to take 11 of us for a night out.. Farid the owner is one of the nicest hosts I've met. He is very accommodating and makes sure we are happy. We opted for the $35 Banquet and as always the freshness, quality and taste of the food was A1…..
arcade_007, "Once again a excellent night out!!"

Great atmosphere very clean and lovely helpful staff made our 1st visit a pleasant one! The Banquet menu makes it easy to enjoy many different dishes if you are unfamiliar with Afghan food or you cant make up your mind what to order. Reasonably priced delicious food to suit every one..